When South Korean-born entrepreneur Hansol Hong was struggling to make it in the country's highly competitive education system, his dad made him an offer he could not believe.
"'If you don't ace your college entry exams, I'm gonna have to send you to university in the United States,'" Hong recalls his father saying.
As fate would have it, Hong's exams didn't go exactly as planned: "I was playing way too many video games," he says.
The result? Hong was left lounging around, wondering what to do with himself. And then he remembered his dad's offer of study in the United States.
"My dad was kind of shocked when I asked him if the offer still stood. It did. Within 6 months, I was heading to America."
A graduate of the University of California at San Diego, Hong is a co-founder and CEO of Robolink, a robotics company established in 2012.
Now a passionate convert and advocate for education, Hong encourages learners to study science, technology, engineering, and mathematics—or STEM fields—by writing code for robots and drones, which are products at the heart of Robolink's offerings.
In a wide-ranging interview with the addlight journal in Tokyo, Hong speaks freely about Robolink, its offerings, and what the future holds for the startup company.
Can you tells us something about Robolink?
We are an educational company that makes kits for robots and drones—so there are software and hardware components involved. Our main goal is to teach children how to write code as a technical skill—what we call robotics education. We hope they can use that knowledge to build drones and robots, and also for critical thinking and problem-solving. Ultimately, we want kids not just to consume technical products, but to be makers and builders of such products as well.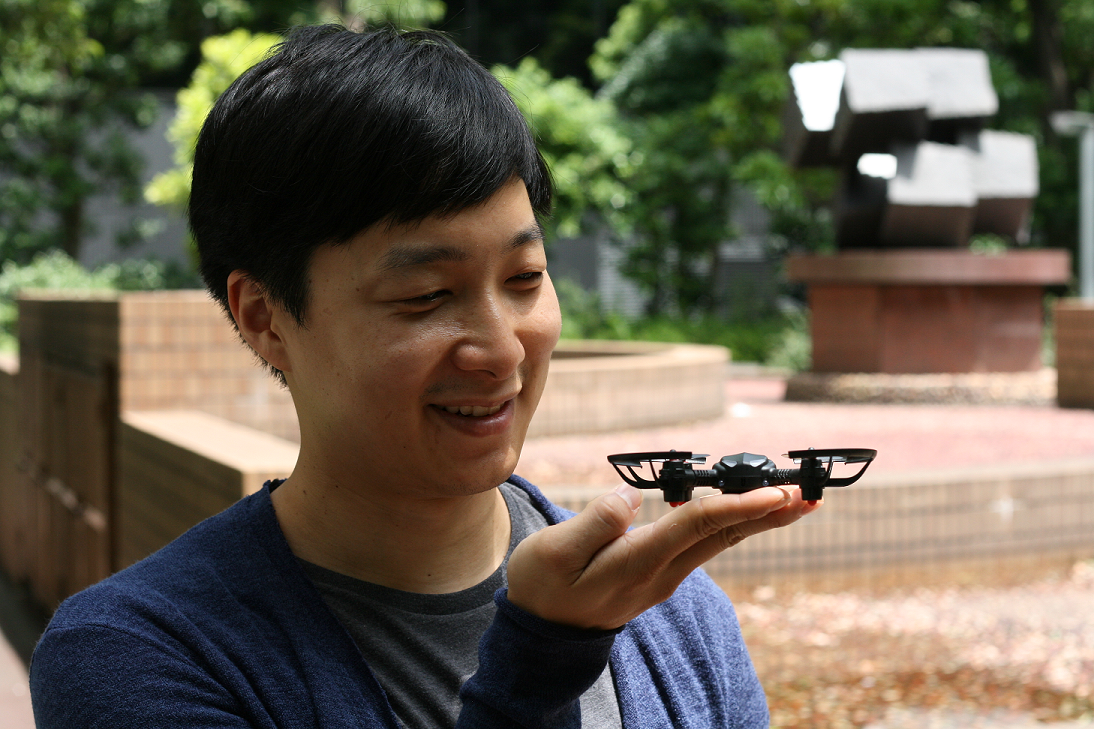 How do the lessons work?
There are two main lessons for beginners. Lesson one begins on a PC or Mac, where students learn how to write code so that the drone knows how to make an emergency stop. Lessons for coding drones can be done by 5th graders, while 3rd graders can manage that for robots. In lesson two, they learn how to code so that a drone can take off and land. A typical lesson takes 30 minutes, and learners can see lesson plans and scheduling online.
Do the kids find writing code hard work?
We have tried to make coding very easy; just about anyone can do it. And especially for kids, being able to see immediate results is important—they are not going to bear anything that takes more than a few minutes without seeing results. So we always put things into bite-size pieces for them.
How do you make sure the lessons are always fun?
We test new products all the time. That way we can reduce the latency between learning and doing. If the kids have to code something for two hours and there's nothing happening, they will not like it when it is released. The testing allows the team to condense each learning phase into manageable chunks with tangible results that rewards effort and keeps enthusiasm up.
What kind of teaching facilities do you use?
There are two kinds. One is where we partner with schools and share our hardware with them. The second is where students come to our educational facilities—which we have in Seoul and San Diego, our base. In Seoul, our business partners make use of the extensive after-school networks there, for example—either within schools or in external facilities—to run classes.
What has been the reaction from kids who attend your courses?
Oh, it's pretty magical. The greatest thing is when kids see what they have coded come to life and actually move. Robots and drones make coding physical and fun, so you really don't have to force kids to enjoy themselves—it's more fun than study for them. As one of our students said: 'I didn't even realize that I'm studying STEM.'

Some of your bestselling products are the drones. What can you tell us about them?
Yes, this is our CoDrone, a great way to get into coding and building drones. It uses Arduino software, with controls based on iOS and Android smartphones. It can do anything from simple flying to mid-air battles with other drones. The CoDrone comes in a kit with modular parts which can be assembled in minutes for flying.
In addition to using it to play games, you can program the drone to simulate things like rescue missions—as might be needed in disaster areas. In such a situation, the drone can fly between pre-coded locations to, for example, drop off a rescue package. So we always make sure that the lessons are educational by connecting what students learn to real-to-life simulations.
You use Kickstarter and social platforms to create buzz and to market your products.
Yes, we used Kickstarter for our robot and drone products. The combined campaigns raised around 250,000 dollars. One benefit of using the platform is that you can raise awareness for your product—Kickstarter actually helps you with SEO so that your product can rank high on search. And once your product is funded, you are always ranked on top of the list or on Google page rankings.
We also engage in controlled advertising via Facebook Ads and Google AdWords. Facebook and Google are great for converting people who are not aware of our products into customers—especially after re-targeting. We also engage in Amazon SEO because people go to Amazon with the intention of making a purchase. Once you're on top of their list, it becomes an effective tool to bump up sales.
Have you sought other funds, apart from crowdsourcing and e-commerce sales?
We have been bootstrapping so far, but may look at angel and other kinds of funding this year. We weren't looking to fundraise before, because we were looking for the right timing to get a good valuation. We think the timing is now, and we may actually need the funds to scale.
To change topics: diversity is trending in tech right now. How are you guys doing?
That's a good question. At the beginning, it was 100 percent males at the company, perhaps due to the nature of the field. In robotics, there has traditionally been few women represented. We have made a concerted effort to recruit women—in the United States and in Korea—and they now make up about half of our team. Looking ahead, we anticipate hiring more.
What can you tell us about future plans for the company?
Our immediate plans are to expand our product and service offerings to more schools and educational facilities. We anticipate educators such as teachers and researchers in labs using our products, as well as robotics enthusiasts. We also see a lot of opportunities in online sales. Down the road, we expect our footprint to expand in the retail sector, with an increasing presence in high street electronics stores.