Last autumn, addlight Inc. co-sponsored the Mirai Salon event series, which had as its theme "SleepTech," one of the fastest-growing areas in sleep research and innovation.
Titled "Expanding SleepTech as a Business," Mirai Salon #9 welcomed Dr. Yoshiki Ishikawa as the keynote speaker. Ishikawa spoke about his research on preventative medicine and sleep.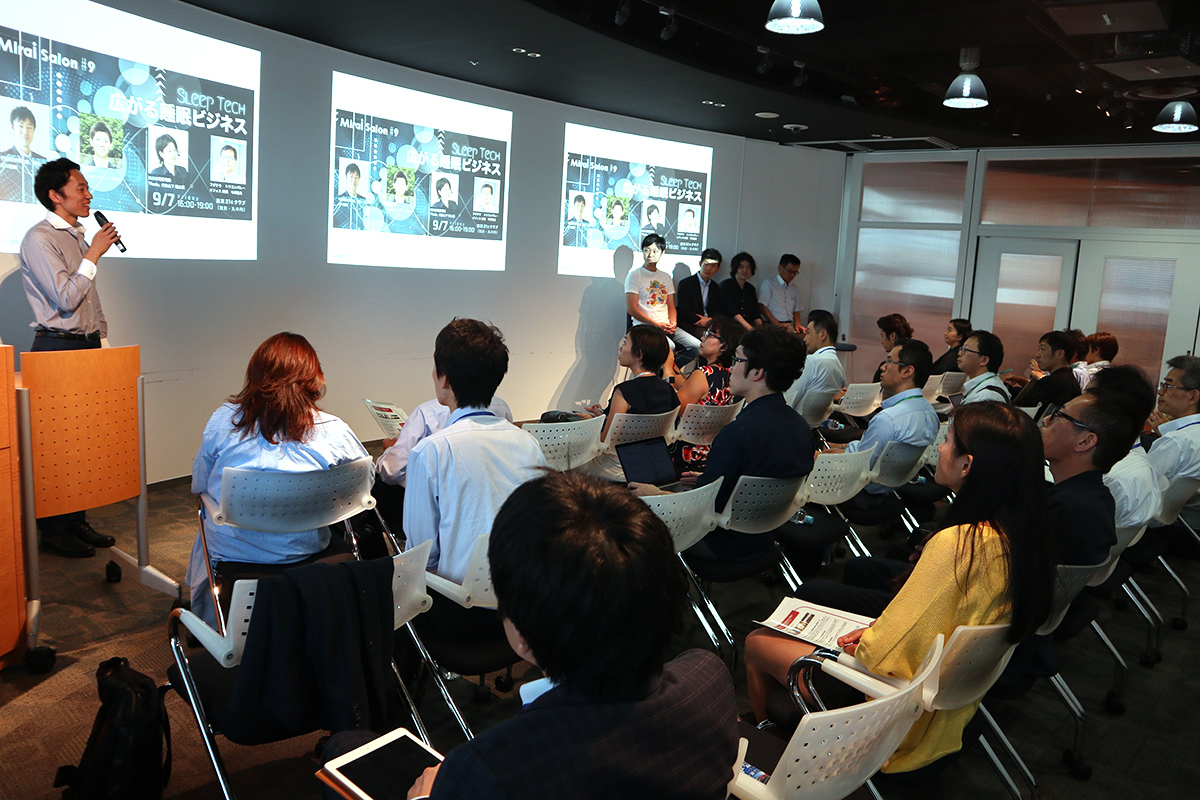 Ishikawa was joined by Takanori Kobayashi, the CEO of SleepTech startup Neurospace Co., Ltd; Fukutaro Yamashita, the Project Leader at Peels, an open innovation project at NTT WEST Corporation; and Takayuki Imai, the director of conglomerate Fujikura Ltd.'s office in Silicon Valley.
Event co-sponsor addlight's CEO Tadaaki Kimura moderated a panel discussion with the speakers, as well as a question and answer session including attendees.
SOCIAL JETLAG
Ishikawa began by noting that sleeping in over the weekend can cause "social jetlag"—"a misalignment of social and biological time."
This happens when a two- to four-hour lag builds up in the body when we sleep in at the weekend (or during "free days"), and is expressed as sluggishness on Monday morning (or on "work days").
How can social jetlag be prevented? Since biological rhythms are dependent on the time day, it is a good idea to maintain regular sleep patterns, even if the duration of sleep itself varies.
Ishikawa noted that good sleep can be ensured by taking into account the three main stages of sleep: early, middle, and late.
They correspond to deep sleep and brain fatigue (early), shallow sleep and body fatigue (middle), and, finally, REM  sleep (late).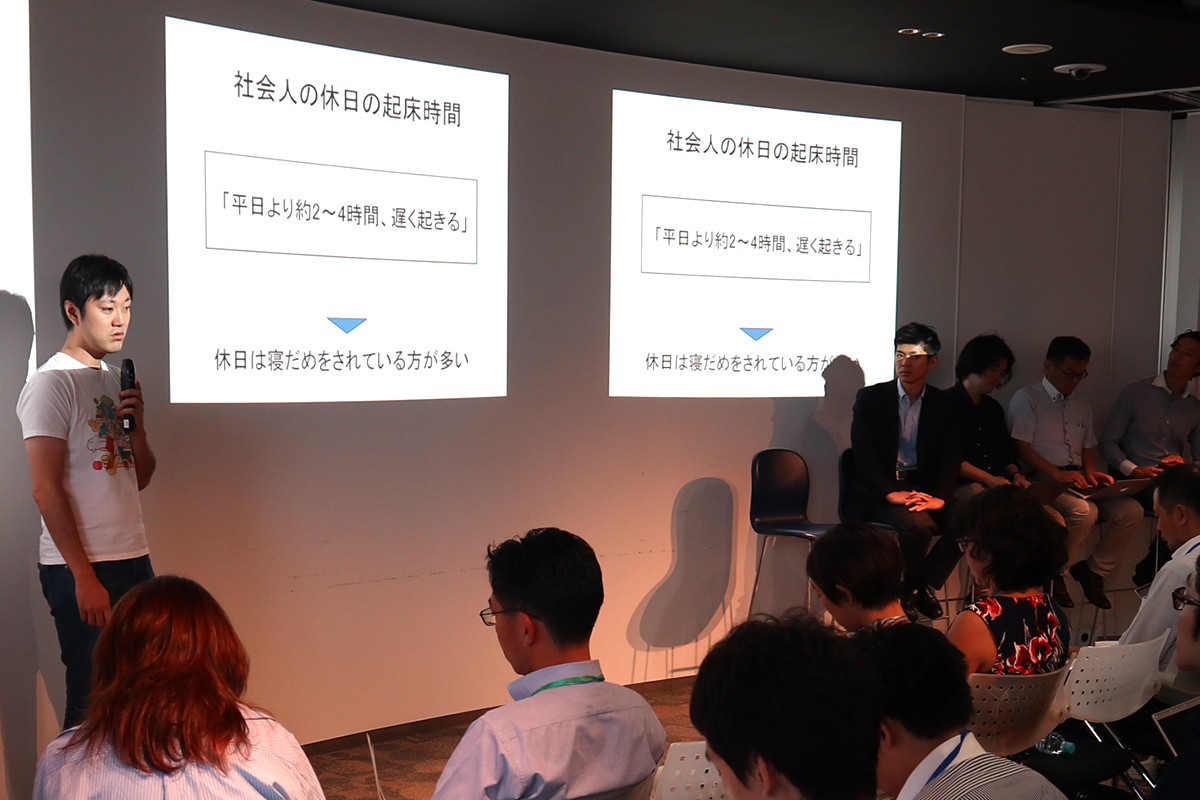 As for sleep itself, 7 hours a night is recommended to maintain normal brain function, even if the amount required per person varies. And if you sleep fewer hours than the recommended amount?
The cognitive function of people who sleep 6 hours deteriorates twice as fast as those who sleep 7 hours, according to research from the United Kingdom.
In a way similar to how alcohol affects cognitive function, lack of sleep can adversely affect how the brain works.
Lack of REM (rapid eye movements) sleep, in particular, can lead to physiological and behavioral problems.
When developing a preventative medicine business, Ishikawa advised, startups  should focus, first, on the needs of customers, and, second, sleep technology itself.
POWER NAPS AND EFFICIENCY
For Kobayashi, founding Neurospace was his way of beginning to tackle insomnia, a problem that had plagued him for years.
Established in 2013, the company develops neuroscience-based programs and technologies that enhance sleep quality and tackle sleep-related problems.
Among Neurospace's services are seminars designed to help participants gain deep understanding of techniques for improving sleep quality.
The company also develops sleep sensing technology, allowing users to record and measure sleep based on such factors as lifestyle and age.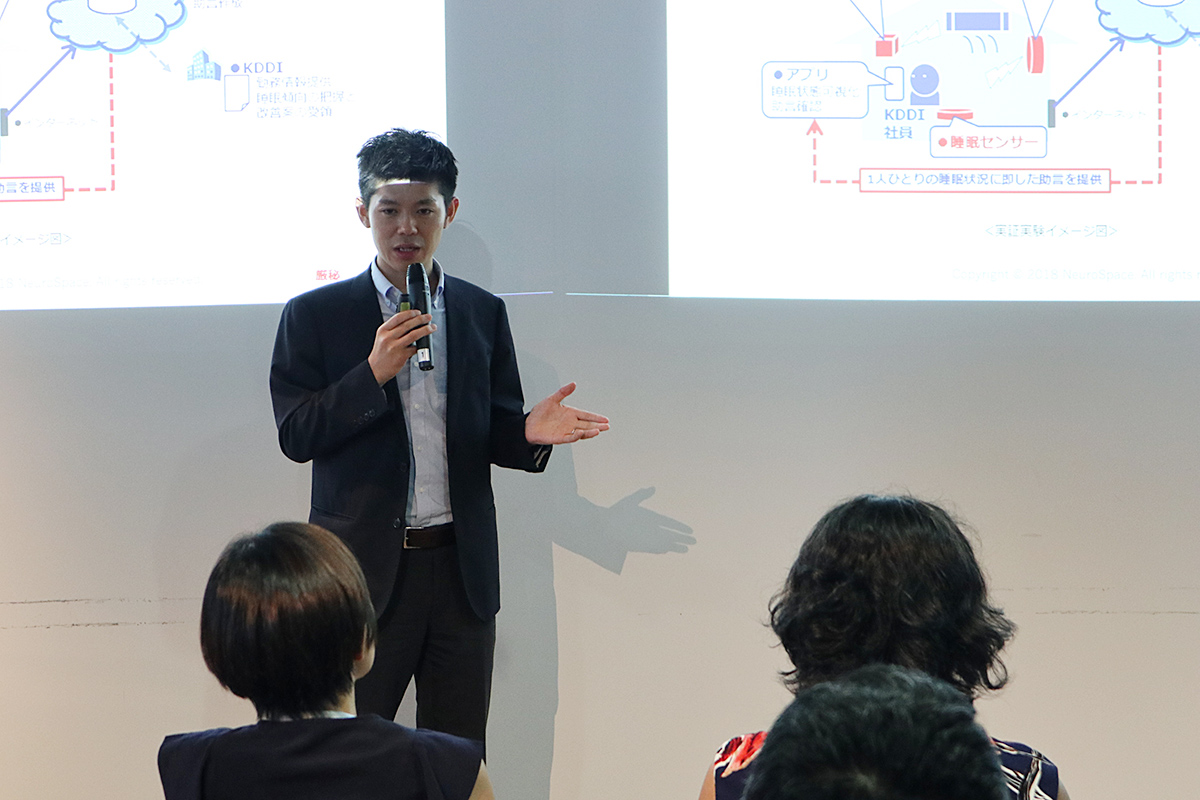 Neurospace has implemented sleep improvement programs for some 10,000 people in 50 companies.
The company's QoolSoG program, a work-style and health management solution, is being used by corporations in Tokyo's Otemachi business district.
The program begins with a 10-point questionnaire in order to understand the sleep trends of a company or one of its departments.
This is followed by data received from non-contact sensing devices (inserted under a user's mattress) which combine with algorithms to analyze biological information.
Results from experiments conducted by a large retail store and an airline are promising, Kobayashi said. It's notable that both sectors have workforces that do shift work.
In these cases, the average sleep time for users increased 30 minutes. The quality of sleep also improved.
And in a trial by Neuropace, construction giant Mitsubishi Estate Co. Ltd, and spectacles maker JINS Inc., a space for napping was created for use by the real estate's workers.
Objective data during the experiment was gathered via JINS MEME, a spectacle-type wearable and sensing device created by JINS.
JINS MEME can track a user's level of concentration, for instance, by monitoring occasions when their eyes blink.
Among other findings, the research showed that taking a nap improves concentration and productivity.
SLEEP AND LEARNING
Yamashita from telecoms giant NTT WEST has conducted research on human emotions using robot and sensor technology since he was in college.
In launching sleep support project Peels, he was inspired not just by his long-standing research, but also his habit as a long sleeper.
Peels is a SleepTech app service for educating users in junior and senior high-school. Such students are often vulnerable to lack of sleep.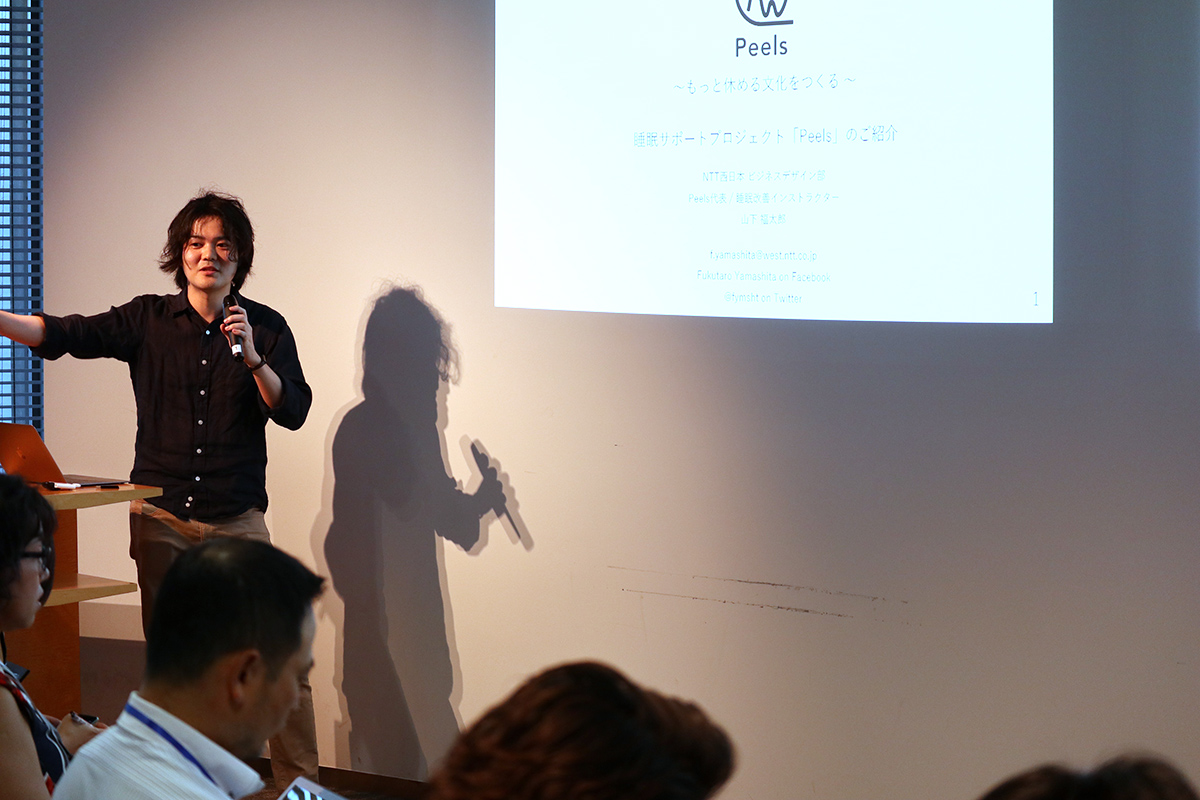 The wrist-wearable device and app can monitor a user's vital statistics and lifestyle patterns—factors that are important in brain function, including a young person's ability to process information and learn—and make recommendations for optimal sleep.
When developing Peels, Yamashita was able to interview users, create a prototype and a business plan, and even pitch to Silicon Valley-based VCs.
Incidentally, this was courtesy of the Start Next Innovator program run by the Ministry of Trade, Economy and Industry (METI).
Peels has subsequently been used in SleepTech research projects with SuRaLa Net Co., an online education provider for young learners, and Sapporo Shinyo High School in Hokkaido.
COLLABORATING WITH COLORADO
Imai, the director of conglomerate Fujikura Ltd.'s Silicon Valley-based office,  is leading the company's expansion into the SleepTech industry.
As part of Fujikura's "Vision 2030" goals to explore new business opportunities, Imai led a partnership with Colorado-based startup Sleep Shepherd LLC.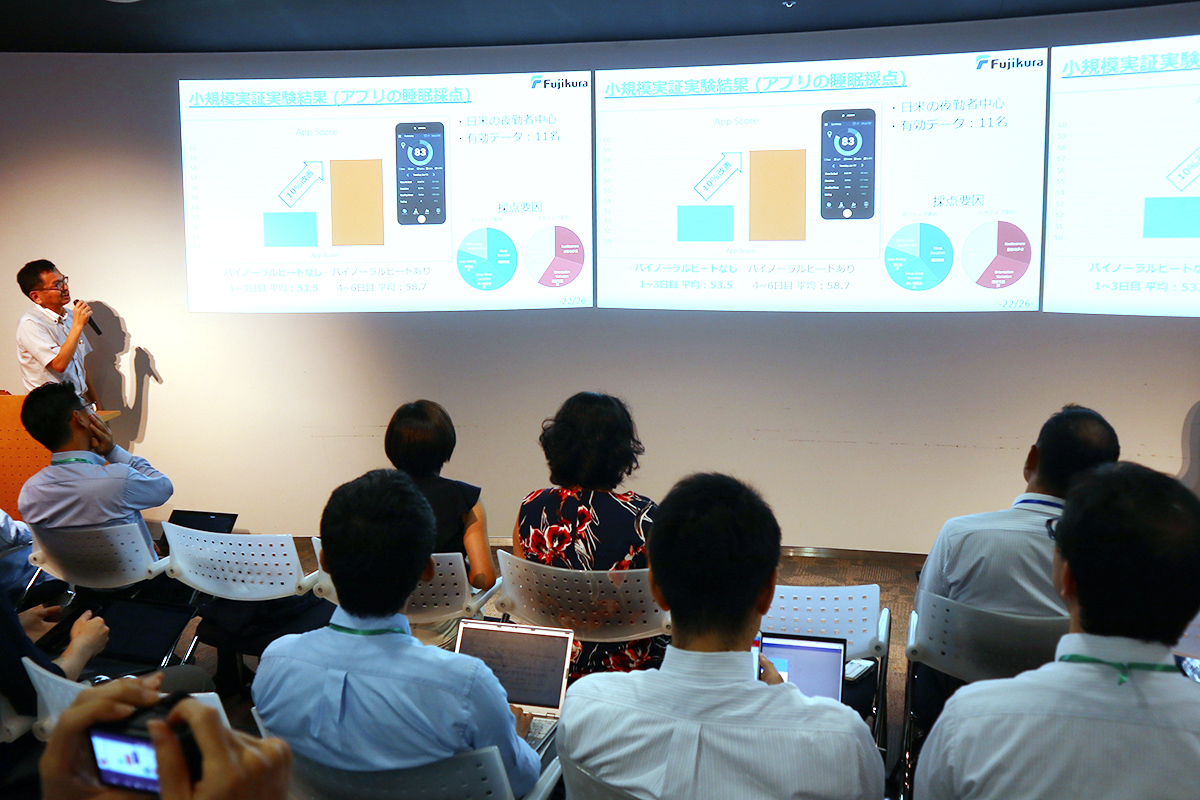 Sleep Shepherd's wearable technology monitors the brain's EEG activity, and adjusts them using finely tuned tones, called binaural beats, directed to your left and right ear.
The resulting biofeedback network allows the device to help users fall asleep and wake up at the right time.
Early results suggest an increase in sleep duration by 16 percent when using the device, Imai said. However, more objective data than has been produced thus far is pending.
QUESTIONS AND ANSWERS
Following the presentations, a panel discussion and question and answer session moderated by addlight's Kimura followed.
A number of queries were fielded in the Q&A, including whether to have a technology-first or customer-first approach when starting a SleepTech business, and what risks to health exist in a profit-based approach to optimizing sleep.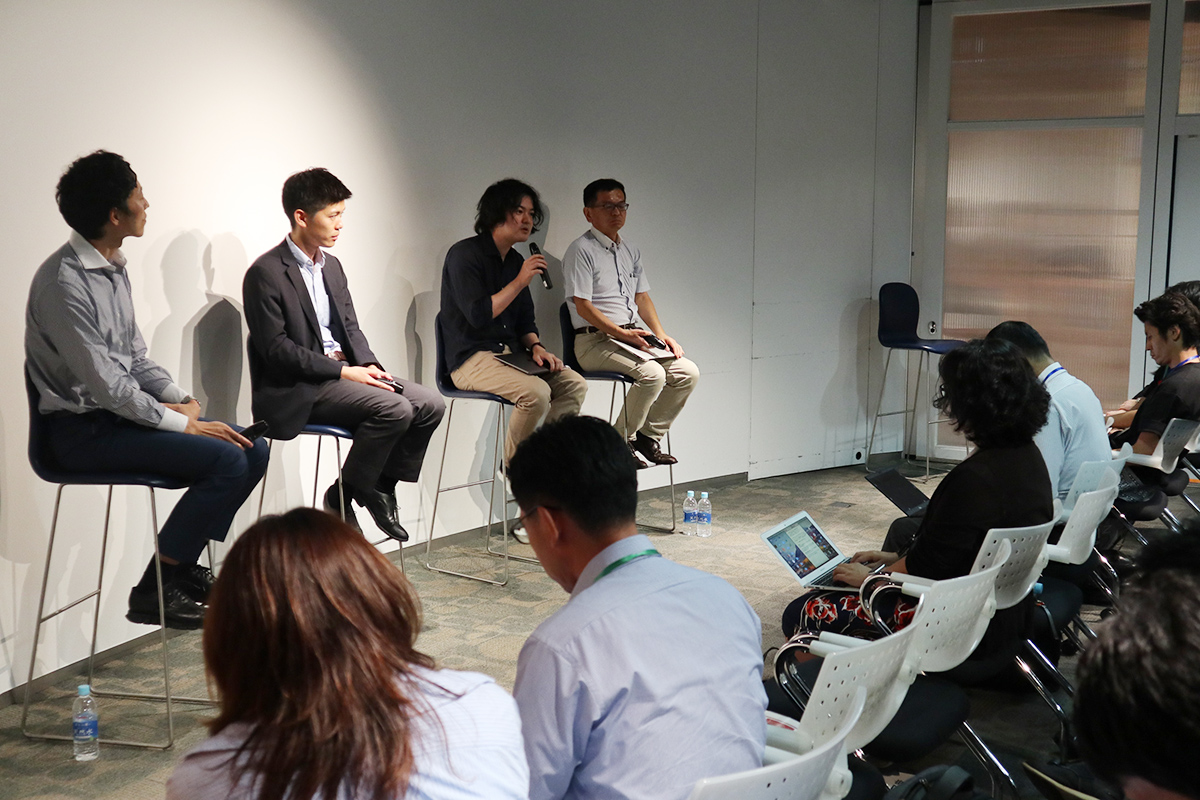 Other inquirers asked about the role played by sleep—or lack of it—in our ability to learn, and what kind of devices will be used in the future to measure and track sleep.
After the panel discussion and Q&A session, attendees enjoyed a networking opportunity over light snacks and refreshments.
ABOUT MIRAI SALON
Co-hosted by real estate giant Mitsubishi Estate and Tokyo-based innovation consulting firm addlight Inc., Mirai Salon events bring together Open Innovation experts, who share use cases in such areas as robotics, automobiles, and next-generation tech like A.I./machine learning, automation, and blockchain. Mirai is Japanese for "future."
ABOUT addlight
addlight Inc.'s business creation services and Open Innovation initiatives support the creation of corporate + startup collaboration in Japan. For more details, visit addlight's homepage (English and Japanese)