Mirai Salon, an event series hosted by addlight Inc., features entrepreneurs and investors who are active in the front lines of innovation. The salon introduces initiatives and use cases on the theme of open innovation.
The Mirai Salon #4 event—titled "The Future of Big Companies and University Spin-Offs Engaged in Japanese-style Open Innovation"—had as its focus open innovation from the perspective of universities and their collaboration with large companies.
In his introduction, addlight's Tad Kimura said previous Mirai Salon events have had such themes as Industry 4.0, IoT, and corporate venture capital (CVC), and featured experts who spoke about the role of open innovation in their industry.
While open innovation approaches are gaining traction, Kimura added, many companies still struggle to innovate due to a lack of a single, correct solution when it comes to promoting such initiatives. addlight, he continued, supports open innovation via events such as Mirai Salon and by providing hands-on support and consultation services to corporations and startups.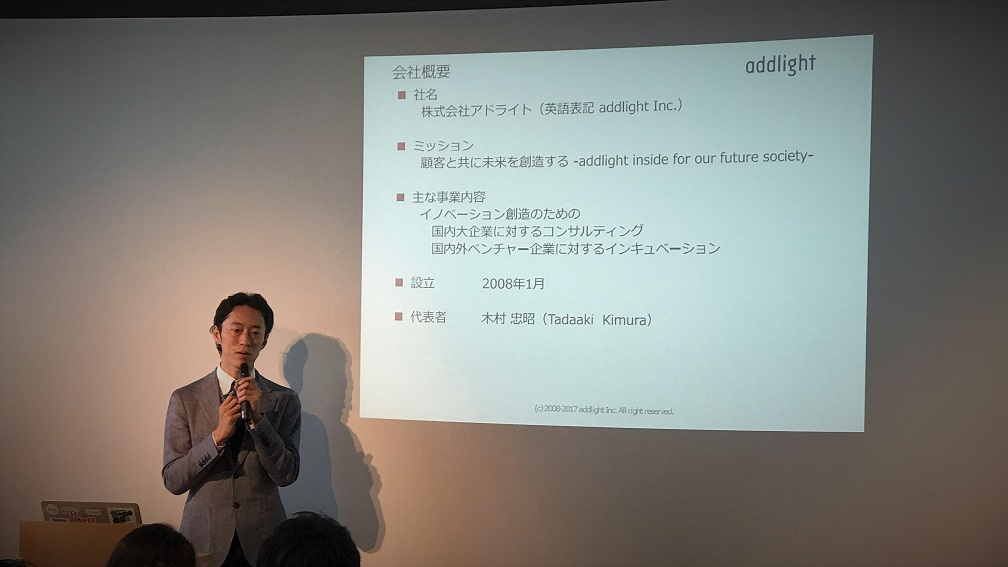 SOLVING PUZZLES IN COLLABORATION WITH BIG COMPANIES
Yasuhiro Take, the CEO and founder at Dricos Inc., a personalized healthcare solutions provider, was the first of the guest speakers to hold the floor. Dricos, which Take founded while still a student, aims to realize a world where consumers become healthy in a seamless way by fusing the desire to enjoy a drink with cutting edge technologies.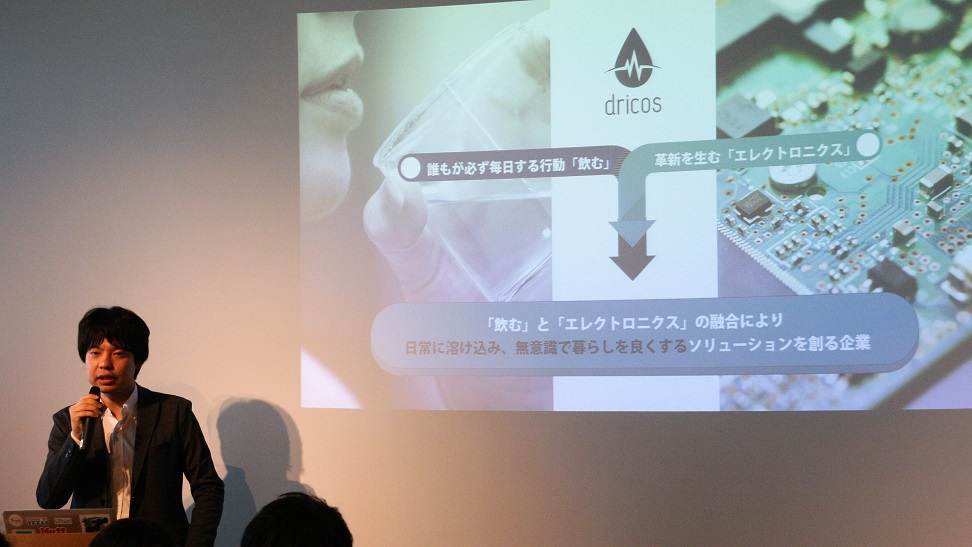 Take asked the audience a rhetorical question: "Who among you has tried dieting or health improvement programs, and yet gave up or ended up frustrated?" He guessed that there were attendees who had not had many successful health outcomes despite using wearable healthcare devices or health enhancement apps, even as such products and services have gained popularity recently.
To change such negative outcomes, Dricos utilizes the power of technology, especially electronics—an area, incidentally, where Japan's economy has thrived, he noted.  
Developed by Dricos, HealthServer is a healthcare product of the future, Take said. Managed by a nutritionist and a doctor, the device uses its own nutrition analysis algorithm based on a user's profile to provide healthcare solutions.
In addition to analyzing data points like a user's height, weight, and sex, the device analyses their pattern of dietary behavior, including nutrients consumed. With this data, HealthServer suggests needed nutrients and combines them in the form of a drink. Taking the pain—and thought—out of nutrition, HealthServer acts as a personal nutritionist.
Take emphasized the large-scale partnership between Dricos and a large drinks maker, the latter having helped them accelerate their business development process.
Two aspects stand out of the partnership. One is the nature of the tie-up with the large company: the partnership acted as a growth engine for Dricos' core business. The other, which supplemented the issue of resource shortage, a challenge common in venture companies, was a verification process of the derived value from the collaboration. This collaboration proved to be a win-win for the companies.
ispace Inc. AND DIVERSE TEAM
Takeshi Hakamada, the representative director of ispace, spoke next. ispace is engaged in space exploration, in particular building habitable locations on the moon.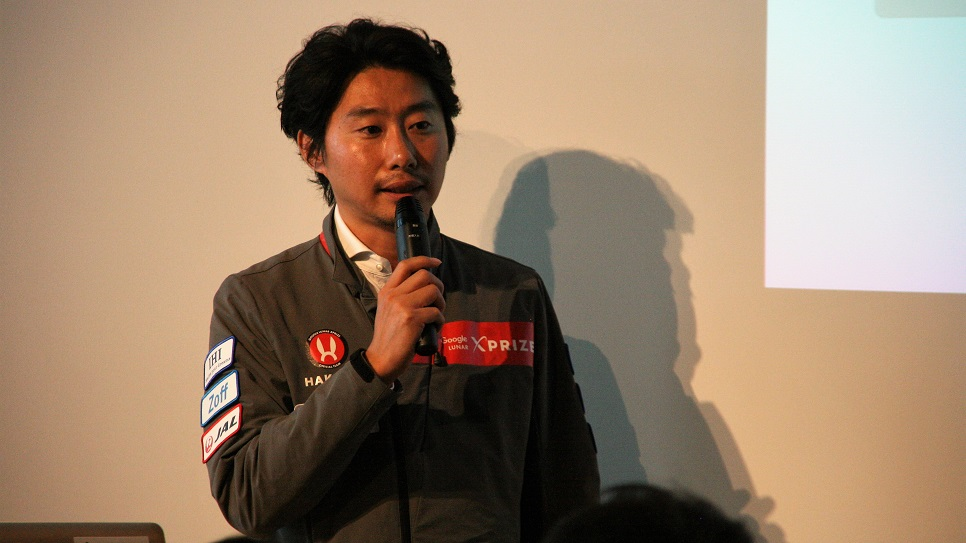 The company is engaged in active collaboration with large companies, Hakamada noted, including working with an ITC company to build a communications environment on the moon. Separately, ispace has worked with a large manufacturer to create an adhesive product that can be used in space.
The company leads a well-known project called HAKUTO, a private sector lunar exploration team based in Japan. Working with telecoms giant KDDI and Tohoku University, HAKUTO is one of five teams from around the world—from an original 34 companies—still in a global contest to create and land a rover on the moon. Hakuto is also supported by volunteers.
The partners consolidated their collective wisdom into the industry's smallest explorer: while NASA's rover weighs around 900 kg, China's some 100 kg, and a fellow competitor's from the United States around 30 kg, HAKUTO's weighs less than 4 kg.
"In creating the rover, we succeeded in dramatically reducing the labor and cost needed from launch to maneuvering on the lunar surface," Hakamada said.
Impressive in its achievements so far, ispace is a venture company that spun-off from Tohoku University. The company is commercializing know-how and R&D technology developed by Kazuya Yoshida, a professor at Tohoku University's Space Robotics Laboratory. Yoshida is also CTO at ispace.
OPEN INNOVATION AND KYOTO UNIVERSITY
Nobuhiro Yagi, a principal at the investment department of Kyoto University's Innovation Capital Co. Ltd. (KYOTO-iCAP), spoke next. Yagi supports spin-offs from Kyoto University as a VC.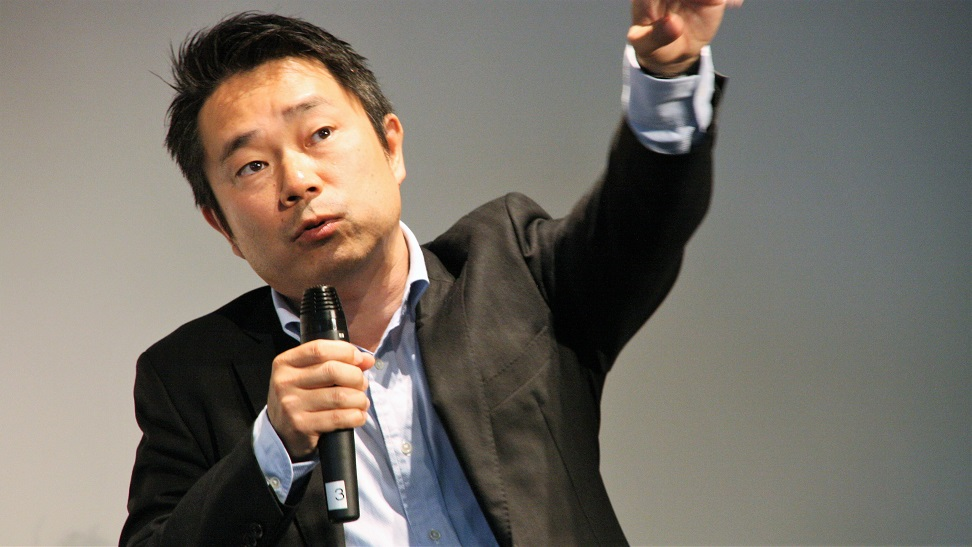 Kyoto University is well-known for its Nobel Prize-winning research and researchers, including Professor Shinya Yamanaka, who became famous for his work on iPS cells.
Yagi spoke about the University's efforts to create innovation, and outlined the scale and destination of funding for venture companies. Their investment department supports a wide range of ventures in a variety of fields, such as biotechnology, ICT, IoT, A.I., energy, and material sciences.
Equally impressive is the reality of open innovation, which includes collaboration between the investment company and the University, given the company is not a private entity. The open innovation collaboration has led to unexpected results.
Looking ahead, Yagi stressed that it is important for future development that the University remains independent. What kind of value the University adds to society will also be of increasing importance.
That said, one challenge that he noted was the dearth of entrepreneurial talent. To this end, KYOTO-iCAP developed a community of innovators, called the Entrepreneur Candidate Club (ECC-iCAP), an organization tasked with training talented young people in entrepreneurship.
ECC-iCAP is to hold such events as meet-ups and offer seed programs and programs to develop entrepreneurship. The community's activities will track Kyoto University's future developments closely, and add to its already established reputation.
SPEED IS KEY TO INNOVATION
Dr. Tomy Kamada of TomyK Ltd. and a co-founder at ACCESS Co Ltd. was the final speaker.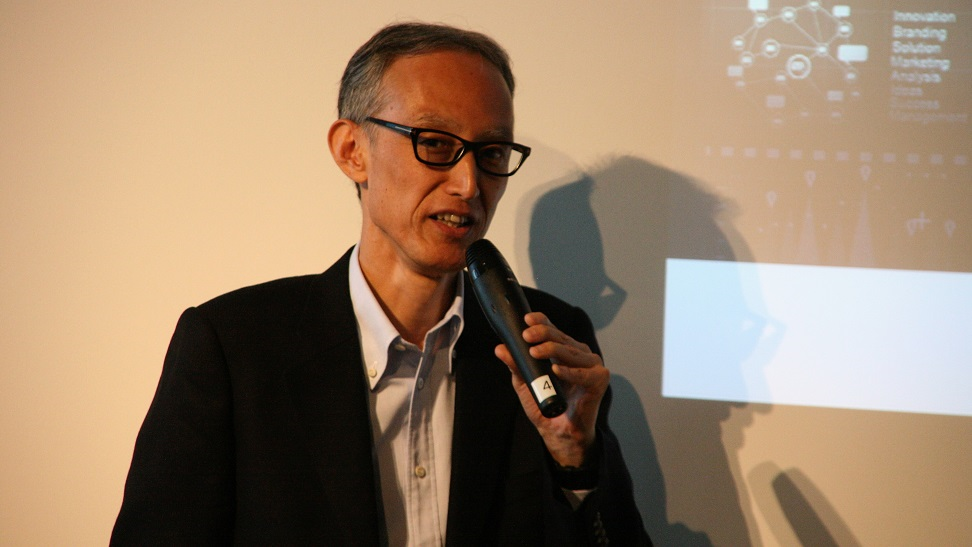 Kamada launched a venture company while studying at the University of Tokyo. Recently, he has been active mainly in support of venture entrepreneurship. Kamada has experience as an outside director of the robot venture company SCHAFT, a University of Tokyo spin-off which was acquired from Google by SoftBank in June.
Fusion of the real world and the digital world is the key to competing globally, Kamada said. With hardware alone, it will be difficult for Japanese to out compete Chinese and South Korean rivals (on price, for example). Rather, it is important to compete on technical aspects and services, he added.
As an example from university, Kamada gave a detailed introduction to the collaboration between SCHAFT and AgIC Inc., a company that prints circuit boards. The partnership has created practical humanoid robots and developed on-demand manufacturing services for inkjet printing with the aid of animation.
In creating a tech venture, Kamada was faced with the need to increase entrepreneurial talent and to expand enterprise in partnership with large companies. What was noteworthy in his case was the speed of collaboration between the venture and the big entities.
Given that many venture companies disappear within 18 months of their founding, it was essential, he said, that a quick decision-making and human resource allocation system was in place on the side of the large company, if the partnership is to succeed—especially where resources are limited. He noted that, while venture collaborations had something like a 20 percent success rate, this should not lead to a state of fear to fail.
PANEL DISCUSSION, Q&A, NETWORKING SESSION
Following the presentations, an enthusiastic panel discussion moderated by addlight's Kimura, in addition to a Q&A and networking session, was held. Such topics as the key considerations to be made when making a tie-up, how universities engage with startups, and how VCs can support a venture company after making an investment, were discussed.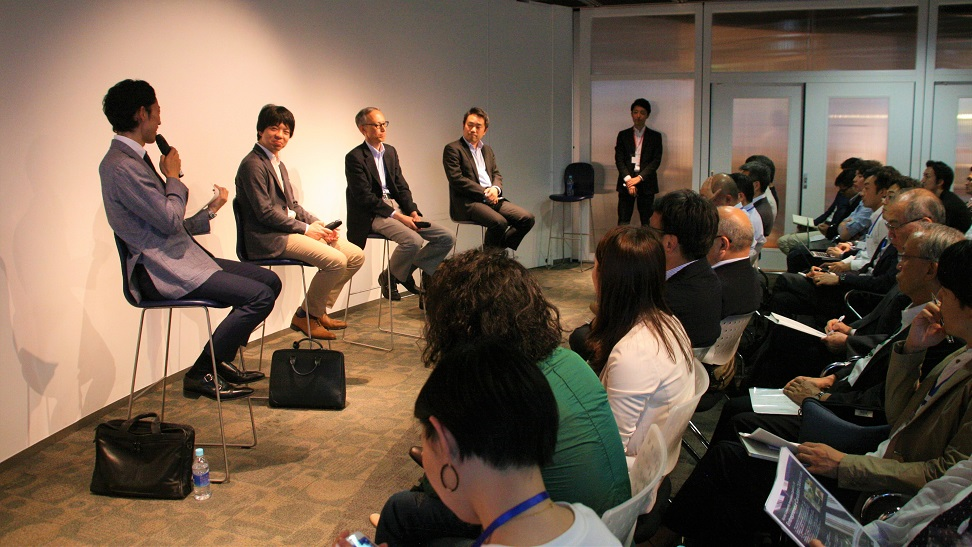 Mirai Salon 4 took place on June 8 (Thu.), 2017, and was the third such event to be co-hosted by addlight, Mitsubishi Estate Co., Ltd., and EGG Japan in the Marunouchi business district, Tokyo.