THE RISE OF CORPORATE + STARTUP ACCELERATORS
Established companies like Nike and Disney are getting into the startup game in a big way. In 2013, Nike launched its Nike+Accelerator in collaboration with TechStars, a startup accelerator based in Colorado. According to Nike, the program "will host 10 companies for a three-month, immersive, mentor-driven startup accelerator powered by TechStars."
Successful startups will share Nike's ambition to create digital innovation in the sports and active lifestyle segments, including training, gaming, and data visualization aspects. Critically, they will have access not just to Nike executives and external mentors, but also Nike technology like the Nike+ API, which they will seek to build upon.
Disney is also getting into the startup game via the Disney Accelerator. According to Disney, "select companies will gain access to the range of creative expertise and resources of The Walt Disney Company to help them develop their innovative new entertainment experiences and products."
As with Nike's accelerator, the one at Disney brings together entrepreneurs, mentors, investors, and technologists to find new synergies. In Disney's case, the participants all share "the ability to dream big, and a vision for making an impact on the world of entertainment and technology."
Japan is also getting in on the act. Here, collaborations between big, legacy companies and startups have taken off recently: Corporate venture capital (CVC)—or investment by big firms into startups—is growing.
Often launched under the "open innovation" platform, CVCs seek to encourage startups to create new products and services, or solve legacy challenges that often cannot be solved by large companies internally.
As with TechStars in the United States, addlight Inc. facilitates collaborations between large firms or CVCs and startups in Japan, including market-entry startups from abroad. 
MIRAI SALON, OPEN INNOVATION AND THE FUTURE OF CVCs
In early 2017, addlight Inc. sponsored the 3rd Mirai Salon event on the future of open innovation—dubbed "The Japanese Open Innovation and the Future of CVCs."  This was a great opportunity to share new ideas by introducing innovation use cases from collaborations between startups and large companies.
Open innovation is the realization of value creation by connecting a large company to external ideas and technologies coming from outside companies, like startups, or from government agencies or research institutes. The value creation strategy is one of the most promising ways of creating new business.
addlight supports open innovation by acting as a facilitator between large enterprises and venture capital firms, offering hands-on project management consultancy services, which include project planning and management, as well as human resources sourcing. 
By hosting the Mirai Salon event (mirai is Japanese for "future"), addlight aims to expand recognition of open innovation among members of large corporations and government—especially the units in charge of new business and innovation.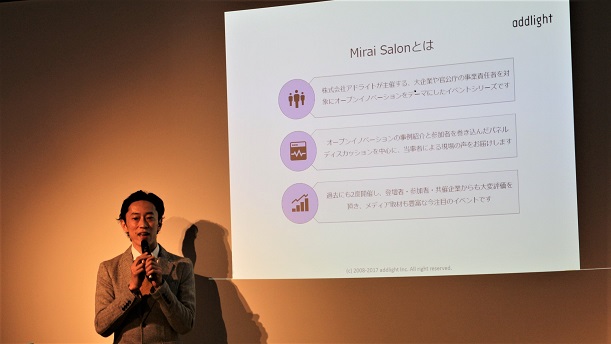 At the salon, addlight's Tad Kimura said: "We heard about open innovation from various representatives of large corporations and VC firms. We conducted a panel discussion and gathered best practice ideas for sharing."
In addition to open innovation in Japan, CVC was a major theme of the salon. CVCs have been trending in Japan recently, with the number of such collaborations on the rise—and they are expected to continue growing.
Two large companies and two startups in A.I. and IoT, for example, were at the event, and spoke about the kind of open innovation they have been working on. After a discussion of the CVC concept, they joined addlight's Kimura in a panel conversation.
CVC and OPEN INNOVATION—RESULTS
At the salon, CEO Masahiko Inada from Kabuku Inc. spoke of the need for open innovation. Established in 2013, Kabuku uses digital fabrication technology like 3D printers to provide on-demand and one-stop manufacturing services.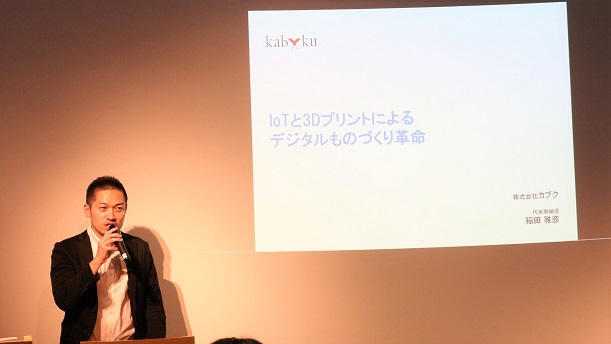 It was this spirit of innovation and openness that he wished to bring back to "democratize" Japanese monotsukuri (craftsmanship). Inada gave examples of successful products made via open innovation and customized manufacturing.
Yuki Watanabe, the CEO of Colorful Board, Inc. also attended the salon. The company's SENSY product is an A.I. that optimizes shopping by learning the personal tastes of customers and creating individual profiles of them for large retail firms.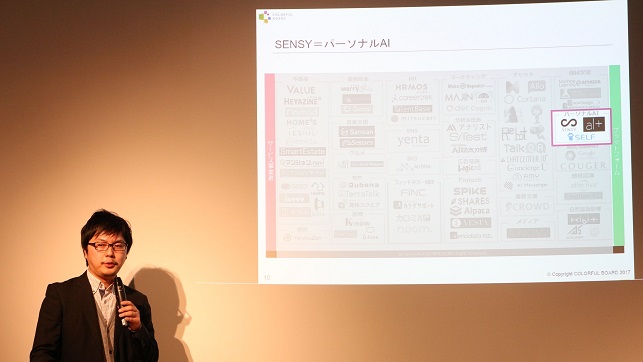 Via SENSY's tablet-style customer correspondence tool, a user's "likes" and "dislikes" can be aggregated to create a data set of their tastes, for example, which retail companies rely on to tailor preferences to inventories.
Not just working with retail, the company is looking at new business partnerships—including using A.I. in partnership with wine sommeliers. The goal is to experiment with companies in a variety of fields, and to find solutions to their challenges or create new services and products.
OPEN INNOVATION AND LARGE COMPANIES
OMRON Corporation is known in the healthcare industry, but the company is also engaged in manufacturing, especially factory automation equipment, said their representative Mitsuru Imanishi, who is in charge of developing new business.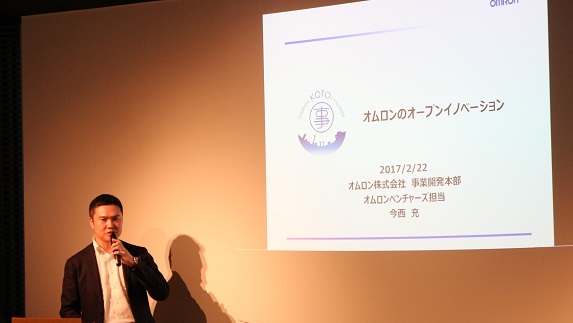 With a history of innovation—including developing the world's first ATMs—OMRON is also engaged in a number of in-house innovations. But such is the speed of change today that the company felt it had to reach beyond its own walls in order to be innovative—and for that, they relied on open innovation and external resources.
To create new business, in 2014 the company established OMRON Ventures Co., Ltd. Through business development promotion activities and partnerships with CVCs, OMRON Ventures has pushed hard to incorporate technology, human resources, and the free exchange of ideas.
The company, for example, supports hardware ventures by providing training and new business incubation at the "Koto Challenge" incubator. Via the incubator, Omron Ventures has created new collaborations in agriculture—such as atmospheric maintenance systems and greenhouses.
Soichiro Tsuboi from Nikon Co., Ltd. spoke about the process of sharing new businesses with the help of outside companies, given their lack of systems for tackling open innovation.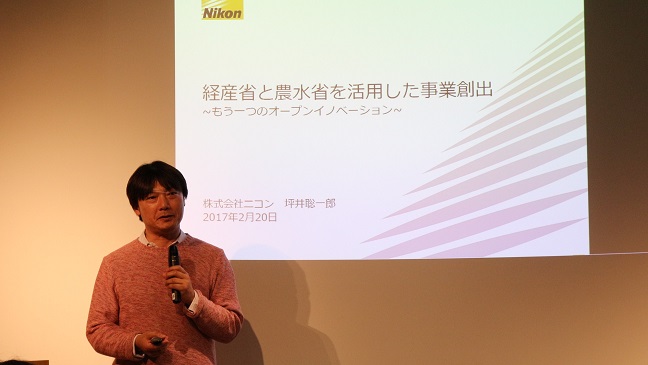 The company has applied its image processing technology in a collaboration with others in the agricultural sector—in this case, for agricultural quality control purposes for fruits and vegetables, Tsuboi, who is based in Nikon's new business development unit,  explained.
Where there was a shortage of needed human resources, Tsuboi sourced them from outside of Nikon. For this, he at first created a consortium with external venture firms, and through the consortium conducted research in their target market: farmers and the agricultural sector.
The company also applied to—and relied on—mentors, who helped them tighten up their business plan, from the Ministry of Economy, Trade, and Industry's (METI's) innovator training program, called "Start Next Innovator 2015, a program for fostering global entrepreneurs."
MUTUAL UNDERSTANDING AND OPEN INNOVATION
In the panel discussion that followed, four participants replied to frank questions from the audience and the from addlight's Kimura, who was the moderator. Attendees asked such questions as "What is the point of collaboration between venture companies and large enterprises?"
In reply, Imanashi from OMRON said the company invests as a CVC to clarify its needs and to work with others who matched these needs. This approach creates a win-win situation for both companies.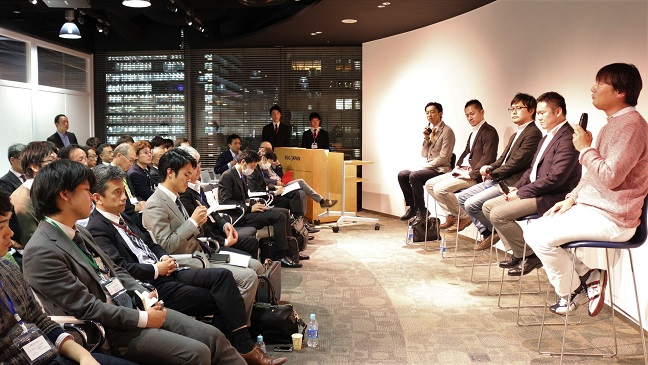 MIRAI THEN AND NOW
While previously Mirai Salon events featured companies that promote digitalization of industries through open innovation and those that create business via IoT, this time it was the in-depth introduction to the success stories of CVCs that was highlighted.
The panel discussion stressed the point that, to lead a project to success, it was important to pay particular attention to the people concerned, and to balance the interests of partner companies against those internal to the other side.
Open innovation allows for proactive, hands-on support to promote a project as a whole, with facilitators becoming members of the project—or a company—that was engaged in such initiatives. To do this requires an understanding of the circumstances around different corporate cultures and to help them function harmoniously.
addlight's business creation services and open innovation initiative aims to support the creation of many such collaboration in Japan. For more details on our service offerings, please visit our homepage.